Time for an update. First we have the cover for
Sailor Moon
Crystal Tokyo
. I drew this over a year ago but finally got around to coloring it.
Sailor Star Fighter
lands in Crystal Tokyo to find a younger
Sailor Moon
she doesn't quite recognize. I took the idea from
Action Comics #252
.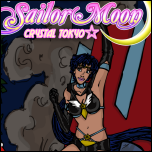 .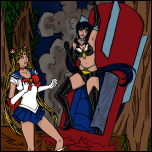 Helix Studios
Comics issue #3 staring
Jake Foster
is next. He's doing quite the messy paint job.
.
Been quite a while since I'd done any gay porn art so I got around to making some over the past two days. Since I love doing comic cover mock ups I thought it would be fun to covers for porn studio
Helix
. The first issue features
Roman Daniels
sitting on a couch showing off his big boymeat. The second issue features
Andy Taylor
who was a little harder to draw. He has like 3 different styles of hair he does so it was kinda hard choosing which one to do. I will most likely do more featuring other models from the company soon.
.